Register Journal
Visitors Counter

Today
452

Yesterday
3391

This week
15847

Last week
13522

This month
36923

Last month
46293

All days
5230903
International Journal of Pure and Applied Zoology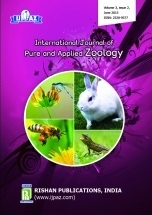 Article Publishing Frequency
0
CGIJ OAJI
0.150
Abbreviation
Int. J. Pure Appl. Zool.
Country
India
ISSN (print)
2320-9577
ISSN (online)
2320-9585
Editor in Chief
Dr. A. Amsath
ISI
—
All articles
0
Date added to OAJI
12 May 2015
Scopus
—
All issues
0
Free access
—
DOAJ
included
Full text language
English
Journal discipline
Journals
Journal description
The International Journal of Pure and Applied Zoology (IJPAZ) is an international open access online and printed version journal published quarterly by Rishan Publications to meet the needs of the global scientific community and to disseminate the latest advancement and significant new findings to the readers and researchers. It aims at promoting research worldwide and publishing peer reviewed basic and advanced original high quality research articles in rapidly from all branches of zoology including physiology, cell and molecular biology, genetics, biochemistry, biotechnology, bioinformatics, microbiology, immunology, parasitology, endocrinology, neurobiology, enzymology, toxicology, environmental biology, developmental biology, marine and aquatic biology, stem cell research, vermitechnology, aquaculture and entomology. IZPAZ provides a forum to researchers for scholarly exchange of ideas, knowledges and experiences on current issues.
Journal is indexed by
NCBI, Google Scholar, IIFS, WorldCat, Inno Space, SJIF, Global Impact Factor, Electronic Journals Library, etc.