Register Journal
Visitors Counter

Today
192

Yesterday
1088

This week
2366

Last week
5229

This month
28211

Last month
47188

All days
4827947
International Journal of Health Research in Modern Integrated Medical Sciences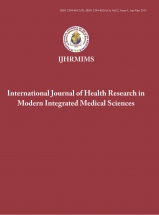 Article Publishing Frequency
1
CGIJ OAJI
0.251
Abbreviation
International Journal of Health Research in Modern Integrated Medical Sciences
Country
India
ISSN (print)
2394-8612
ISSN (online)
2394-8620
Editor in Chief
Dr. Praveen Varma
ISI
—
All articles
Date added to OAJI
04 Mar 2015
Scopus
—
All issues
Free access
2014
DOAJ
included
Full text language
English
Journal discipline
Journals
Journal description
International Journal of Health Research in Modern Integrated Medical Sciences (IJHRMIMS) is adouble blind peer reviewed, Print andOnline journal, giving priority for research in Health andModern Innovative Medical Sciences. It is a non profit, peer reviewed journal and will be published quarterly. As medical science is fast expanding, this journal is a platform for the researchers for their publication as it reaches globally. It publishes original research articles in the field of Medical and Health and its Allied branches. Journal invites original articles, short communications, case reports, Letter to Editor and review articles on recent advances in medical and health.
Journal is indexed by
SIS, ICMJE, INFOBASEINDEX, Google Scholar etc...