Register Journal
Visitors Counter

Today
1489

Yesterday
2024

This week
3513

Last week
12348

This month
10814

Last month
45282

All days
5038637
Sociología y tecnociencia/Sociology & Technoscience/Sociologia e tecnociência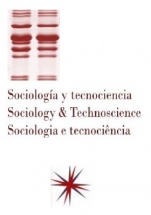 Article Publishing Frequency
1
CGIJ OAJI
0.000
Abbreviation
Soc & Technoscience
Country
Spain
ISSN (print)
-
ISSN (online)
1989-8487
Editor in Chief
Juan R. Coca
ISI
—
All articles
Date added to OAJI
19 Feb 2015
Scopus
—
All issues
Free access
2010
DOAJ
—
Full text language
Spanish/English/Portuguese
Journal discipline
Journals
Journal description
Sociology and Technoscience is a journal sponsored by the Universidad de Valladolid. It basic purpose is to fill a critical gap in iberoamerican sociology. The central aim of Sociology and Technoscience is to study, understand and analyze the social influence of the various scientific and technological or technoscientific activities. Hence, the politics, economics or ethics (among other disciplines of human knowledge) as well as the many concerns, factors, or imagined social impact generated by all activities of the techno-scientific system (biotechnology, information and communication technologies, cloning, politics, economics, drugs, technology risk, etc.) are of interest in this publication. Sociology and Technoscience has a biannual periodicity (January and June) and it follows the usual mechanisms of the academic journals. We recommend reading the journal's editorial policy and guidelines. Soc&Tech texts accepted for publication in Spanish, Portuguese and English.
Journal is indexed by
EBSCO, Sociological Abstract, Fuente Academica Premier, ProQuest, Social Services Abstracts, LATINDEX, Ulrich's, DOAJ, DIALNET, Index Copernicus, Compludoc, Publindex, Cobiss, New Jour, Latindex, MIAR, ABI/INFORM Global, ABI/INFORM Complete, DICE-CINDOC (CSIC), CARHUS Plus+, CIRC (CSIC), RESH (CSIC), etc.