Register Journal
Visitors Counter

Today
223

Yesterday
1147

This week
10022

Last week
9129

This month
14889

Last month
40835

All days
5617422
Dinamika Hukum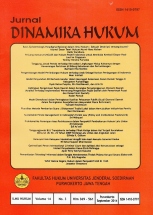 Article Publishing Frequency
3
CGIJ OAJI
0.101
Abbreviation
—
Country
Indonesia
ISSN (print)
1410-0797
ISSN (online)
2407-6562
Editor in Chief
Prof. Dr. Agus Raharjo, S.H., M.Hum.
ISI
—
All articles
Date added to OAJI
27 Dec 2014
Scopus
—
All issues
Free access
2008
DOAJ
—
Full text language
Indonesia and English
Journal discipline
Journals
Journal description
Dinamika Hukum Journal, Faculty of Law, Jenderal Soedirman University is national accredited journal which has function as media of information and communication in field of law. Dinamika Hukum Journal published three times in one year. It is in January, May, and September. Dinamika Hukum Journal contained various articles from the research results, conceptual ideas, and another studies that associated with law study.
Journal is indexed by
Indonesian Publication Index