Register Journal
Visitors Counter

Today
633

Yesterday
1307

This week
10384

Last week
11178

This month
4839

Last month
61164

All days
5365321
Entrepreneurial Business and Economics Review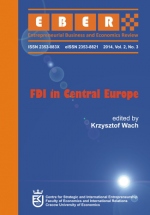 Article Publishing Frequency
0
CGIJ OAJI
0.000
Abbreviation
EBER
Country
Poland
ISSN (print)
2353-883X
ISSN (online)
2353-8821
Editor in Chief
Krzysztof Wach
ISI
—
All articles
0
Date added to OAJI
03 Dec 2014
Scopus
—
All issues
0
Free access
—
DOAJ
—
Full text language
English
Journal discipline
Journals
Journal description
'Entrepreneurial Business and Economics Review' (EBER), as multi-disciplinary and multi-contextual journal, is dedicated to serve as a broad and unified platform for revealing and spreading economics and management research focused on entrepreneurship, individual entrepreneurs as well as particular entrepreneurial aspects of business. It attempts to link theory and practice in different sections of economics and management by publishing various types of articles, including research papers, conceptual papers and literature reviews. The Journal accept the articles from the following fields: •Entrepreneurship and Human Capital (in particular entrepreneurship and innovation, strategic entrepreneurship, corporate entrepreneurship, entrepreneurship methodology, new trends in HRM and HRD as well as organizational behaviour), •Management and Business Studies (in particular entrepreneurial management, entrepreneurial business, management methodology, modern trends in business studies and organization theory), •International Business and International Economics (especially international entrepreneurship, European business, and new trends in international economics including the economics of the European Union and emerging markets, as well as Europeanization), •Applied Economics and Statistics (in particular the role of entrepreneurship and the entrepreneur in economics – microeconomics and macroeconomics, new trends in economics, economics methodology, current research in statistics and demography), •Public Policies and Business Education (in particular policies promoting entrepreneurship, innovation, R&D and SMEs, education for entrepreneurship, new trends in social sciences).
Journal is indexed by
ABI/INFOR Global, ProQuest Entrepreneurhsip, Inted Copernicus, CEEOL, BazEkon etc.