Register Journal
Visitors Counter

Today
1058

Yesterday
1581

This week
25065

Last week
13522

This month
46141

Last month
46293

All days
5240121
International Journal of Academic Research in Business and Social Sciences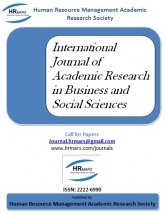 Article Publishing Frequency
0
CGIJ OAJI
0.000
Abbreviation
IJARBSS
Country
Pakistan
ISSN (print)
2222-6990
ISSN (online)
-
Editor in Chief
Dr. Aslam Adeeb
ISI
—
All articles
0
Date added to OAJI
18 Nov 2014
Scopus
—
All issues
0
Free access
—
DOAJ
—
Full text language
English
Journal discipline
Journals
Journal description
The IJ-ARBSS is an interdisciplinary open access blind peer-reviewed refereed journal published by Human Resource Management Academic Research Society (HRMARS) that publishes significant contributory researches regarding different fields of social sciences, business and education management. IJ-ARBSS publishes twelve issues per year. IJ-ARBSS publishes original research articles related to Business Management, Human Resource Management, Leadership, Marketing Management, Psychology, Sociology, Education Management, Teacher's Training, Education Training, MIS (Management Information System), Business law, Marketing theory and Marketing applications, Business investment, Business finance, Public ethics, Operations management, business research, Organizational behavior, Business and economics education, Case studies, statistics, Industrial relations, Econometric, Personnel relations, management & public policy, Management organization and Innovation & technology. By providing easy access to the insights of social sciences & Business information, case studies and researches, IJ-ARBSS aims to extend and supplement the knowledge of scholarly world.
Journal is indexed by
EBSCO, RePEc, ProQuest, Ulrich's Web, Cabell's Directory, IndexCopernicus, ERA etc.