Register Journal
Visitors Counter

Today
1376

Yesterday
1852

This week
5092

Last week
11178

This month
60711

Last month
49943

All days
5360029
Journal of Information Technology and Application in Education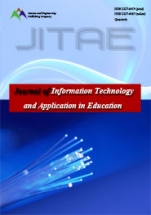 Article Publishing Frequency
6
CGIJ OAJI
0.101
Abbreviation
JITAE
Country
USA
ISSN (print)
2227-6459
ISSN (online)
2227-6467
ISI
—
All articles
Date added to OAJI
14 Nov 2014
Scopus
—
All issues
Free access
2012-2014
DOAJ
—
Full text language
English
Journal discipline
Journals
Journal description
Journal of Information Technology and Application in Education (JITAE) is an international open-access and refereed journal dedicated to publishing the latest advancements in information technology and application in education. The goal of this journal is to record the latest findings and promote further research in these areas. Scholars from all relevant academic fields are invited to submit high-quality manuscripts that describe the latest, state-of-the-art research results or innovations.
Journal is indexed by
Ebsco, CrossRef, Gale, WorldCat, CNKI SCHOLAR, Journal TOCs, getCITED, NewJour, DRJI, Academia.edu, J-Gate, etc.