Register Journal
Visitors Counter

Today
754

Yesterday
1449

This week
3581

Last week
9229

This month
12810

Last month
32763

All days
4875595
Sciencia Acta Xaveriana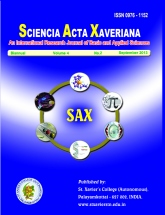 Article Publishing Frequency
8
CGIJ OAJI
0.101
Abbreviation
—
Country
India
ISSN (print)
0976-1152
ISSN (online)
0976-1152
Editor in Chief
Dr. A. Lourdusamy
ISI
—
All articles
Date added to OAJI
07 Nov 2014
Scopus
—
All issues
Free access
2010-2016
DOAJ
—
Full text language
English
Journal discipline
Journals
Multidisciplinary Sciences
Journal description
SCIENCIA ACTA XAVERIANA (SAX) is an International Research Journal of Basic and Applied Sciences aims at publication of original research papers, comprehensive review articles, book-reviews, dissertation abstracts etc. devoted to any area in Science (Biology, Chemistry, Computer Science, Mathematics, and Physics).
Journal is indexed by
Global Impact Factor, CiteFactor, Google Scholar, Research Bible, Directory of Science, National Academy of Agricultural Sceinces (India).