Register Journal
Visitors Counter

Today
1158

Yesterday
2013

This week
4586

Last week
9624

This month
38564

Last month
49411

All days
5522954
Vìsnik Dnìpropetrovsʹkogo unìversitetu. Serìâ Hìmìâ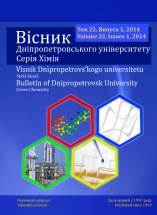 Article Publishing Frequency
0
CGIJ OAJI
0.000
Abbreviation
Visn. Dnipropetr. Univ.: Khim.
Country
Ukraine
ISSN (print)
2306-871X
ISSN (online)
2313-4984
Editor in Chief
Prof. Sergiy. I. Okovytyy, D. Sc.
ISI
—
All articles
0
Date added to OAJI
30 Oct 2014
Scopus
—
All issues
0
Free access
—
DOAJ
—
Full text language
English, Ukrainian, Russian
Journal discipline
Journals
Journal description
Journal publishes results of the latest research in applied and theoretical chemistry, analytical chemistry, organic synthesis, electrochemical coating, coordination chemistry, as well as essays on history of the Chemistry etc.
Journal is indexed by
Worldcat, BASE, Sciary