Register Journal
Visitors Counter

Today
803

Yesterday
1773

This week
10329

Last week
12729

This month
6510

Last month
61234

All days
5154197
Journal of Research in Plant Sciences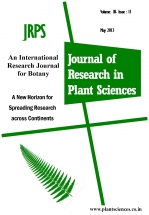 Article Publishing Frequency
0
CGIJ OAJI
0.000
Abbreviation
jresplantsciences
Country
India
ISSN (print)
2319–1643
ISSN (online)
2319–1651
Editor in Chief
Abiya chelliah
ISI
—
All articles
0
Date added to OAJI
06 Sep 2014
Scopus
—
All issues
0
Free access
—
DOAJ
—
Full text language
English
Journal discipline
Journals
Journal description
Journal of Research in Plant Sciences is an international journal providing a portal for botanical studies with a particular interest in plant biology, vegetation and ecological plant status, conservation etc. Journal of Research in Plant Sciences publishes original articles and reviews on biogeography, plant systematics, evolutionary biology, population biology, advanced botany and function of plants, vegetation, and also on interactions of plants with plants, animals or microorganisms. Descriptive or applied studies are acceptable, provided with clear research questions and findings that are presented neatly to meet out the scope of the journal. Articles must be relevant for an international readership and quality. Journal of Research in Plant Sciences is published online every month. If requested hard copies will also be sent to your address.
Journal is indexed by
Electronic Journals Library, National Agricultural Library,CAB, E- JOURNALS, Google Scholar, JASTOR, Open J Gate.