Register Journal
Visitors Counter

Today
866

Yesterday
1773

This week
10392

Last week
12729

This month
6573

Last month
61234

All days
5154260
Journal of Research in Animal Sciences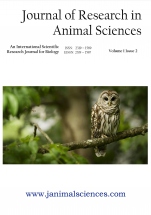 Article Publishing Frequency
0
CGIJ OAJI
0.000
Abbreviation
jresanimalsciences
Country
India
ISSN (print)
2319-1589
ISSN (online)
2319-1597
Editor in Chief
Abiya chelliah
ISI
—
All articles
0
Date added to OAJI
06 Sep 2014
Scopus
—
All issues
0
Free access
—
DOAJ
—
Full text language
English
Journal discipline
Journals
Journal description
The Journal of Research in Animal sciences publishers research articles based on morphological, analytical and applied investigation on invertebrates and vertebrates. It also accepts review articles designed on the current knowledge of any animal studies or its perspectives. The macroscopic, microscopic, ultra structural studies, embryological studies, pharmacological and all animal based researches are welcome to be published in this journal.
Journal is indexed by
Electronic Journals Library, National Agricultural Library, CAB, E- JOURNALS, Google Scholar, JASTOR, Open J Gate.