Register Journal
Visitors Counter

Today
422

Yesterday
3391

This week
15817

Last week
13522

This month
36893

Last month
46293

All days
5230873
SECURITY DIALOGUES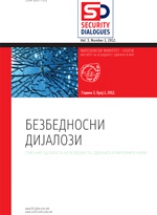 Article Publishing Frequency
0
CGIJ OAJI
0.000
Abbreviation
—
Country
Macedonia, The Former Yugoslab Republic Of
ISSN (print)
1857-7172
ISSN (online)
1857-8055
Editor in Chief
Prof. Toni Mileski, Ph.D.
ISI
—
All articles
0
Date added to OAJI
30 Jun 2014
Scopus
—
All issues
0
Free access
—
DOAJ
—
Full text language
English
Journal discipline
Journals
Multidisciplinary Sciences
Journal description
This journal represents an independent and international academic journal, which covers the broadest conceptual framework of security studies and provides publishing of works of a wider thematic range (from the fields of security, defence, peace, resolving of conflicts, etc.). The journal comes out twice a year and is of international character, with international reviewers. The aim of this journal is to serve the purpose of broadening the knowledge of these fields for the scientific and academic circles, as well as for the students of these and such similar disciplines. The relevant fields that are covered deal with the concepts, paradigms, institutions and odds for solving contemporary issues of the theory and practice of defence, security (on several levels), peace and conflicts.
Journal is indexed by
EBSCO host