O
pen
A
cademic
J
ournals
I
ndex
Register Journal
Visitors Counter

Today
1362

Yesterday
1754

This week
3116

Last week
11493

This month
30698

Last month
52208

All days
4439753
Journal of contemporary medical sciences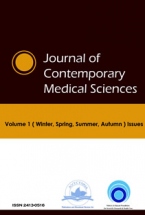 Article Publishing Frequency
0
CGIJ OAJI
0.150
ISSN (print)
-
ISSN (online)
2413-0516
Editor in Chief
Abbas M Bashi
ISI
—
All articles
0
Date added to OAJI
14 Feb 2016
Scopus
—
All issues
0
Free access
—
DOAJ
included
Full text language
English
Journal discipline
Journals
Journal description
Journal of Contemporary Medical Sciences ( J. contemp. med. sci. ), is an international peer-review biomedical open access journal. The aim of the journal is to provide a forum for presentation of high quality studies in the field of medical sciences in a way that a broad range of audience can benefit from the scientific evidences. The journal publishes original clinical articles as well as basic science research experiences mainly on prevalent diseases in the region, the analysis of various regional problems and all areas of Medical Sciences .Manuscripts are publishable in the form of original article, review article, case report, letter to the editor, etc. JOCMS publishes all types of studies provided that the methodology is sound and the article is prepared well. The peer review process guarantees the standard level of publication.
Journal is indexed by
Google scholar, Journal Seek, HINARI, cite factor.