O
pen
A
cademic
J
ournals
I
ndex
Register Journal
Visitors Counter

Today
725

Yesterday
1628

This week
2353

Last week
11351

This month
50168

Last month
51364

All days
4510587
Planeta Amazônia: Revista Internacional de Direito Ambiental e Políticas Públicas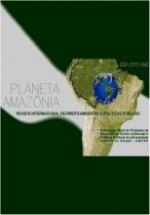 Article Publishing Frequency
0
CGIJ OAJI
0.000
Abbreviation
Plan. Amaz. Rev. Int. Dir. Amb. Pol. Pub.
Country
Brazil
ISSN (print)
-
ISSN (online)
2177-1642
Editor in Chief
Daguinete Maria Chaves Brito
ISI
—
All articles
0
Date added to OAJI
22 Jan 2015
Scopus
—
All issues
0
Free access
—
DOAJ
—
Full text language
Portuguese
Journal discipline
Journals
Journal description
Planeta Amazônia: Revista Internacional de Direito Ambiental e Políticas Públicas (ISSN 2177-1642) is an official publication of the Master's Program in Environmental Law and Public Policy at the Federal University of Amapá - UNIFAP. It publishes original articles on topics involving environmental law and public policy that aims at the continuous search for ecological balance. Because of the interdisciplinary nature of the Graduate Program in Environmental Law and Public Policy Federal University of Amapá, the Journal accepts input from various areas of knowledge, such as law, economics, planning, town planning, environmental sciences , education, linguistics, among others. Publishes original and unpublished articles. It is open to Brazil and foreign collaborations. The Analysis and assessment of the articles by the referees are performed with the anonymity of the authors of their work and reviewers. The deadline for receipt of the articles of contributions is with streaming. Is indexed in several bases of national and international data.
Journal is indexed by
Directory of Research Journals Indexing; Elektronische Zeitschriftenbibliothek; Latindex; Livre!; Qualis Capes; SEER; Sumários.org.